Celebrating 50 Years (1973-2023)

1973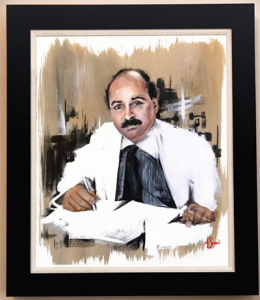 Dr George Edelstyn, an oncologist at Belvoir Park Hospital founded Action Cancer with the aim to fund pioneering research into chemotherapy and to support patients and their families during treatment.
1975
Action Cancer House, 1 Marlborough Park, Belfast, was purchased to provide facilities for patients awaiting treatment at Belvoir Park and recovery facilities for chemotherapy patients who had to travel long distances.
1978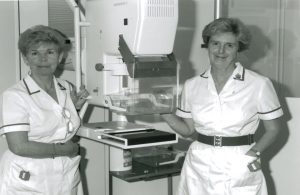 Action Cancer began screening women for breast cancer – this was the first time screening was introduced in Northern Ireland. We also offered counselling for local people affected by cancer.
We introduced other support services, as well as promoting healthy living, raising awareness of cancer symptoms and providing health checks.
2001
Action Cancer House extension and refurbishment completed and officially opened by King Charles III.  This enabled services to be consolidated on one single site and also the expansion of service provision. The Action Cancer Support Centre previously located on the Lisburn Road, offering counselling and complementary therapies, was transferred to ACH whilst the Health Promotion team and the range of programmes it provided was substantially expanded.
July
Action Cancer acquired two new digital breast x-ray machines, the first in Northern Ireland. In July 2006 this innovative technology became operational in Action Cancer House and a few months later onboard our mobile unit, the Big Bus.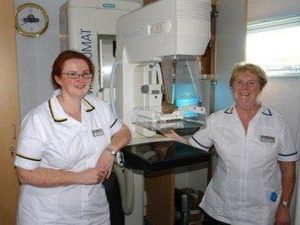 September
The original Action Cancer Big Bus was launched. Supported by SuperValu NI, the Big Bus brought our services to every town and village across Northern Ireland.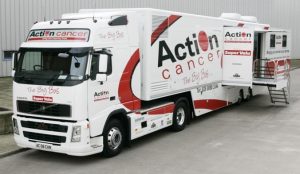 April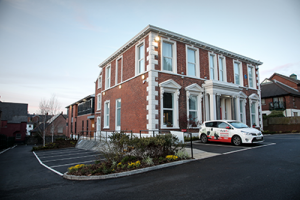 Due to an increase in demand for our services, we moved to 20 Windsor Avenue, Belfast. We built a new breast screening suite using state of the art 3D imaging and a therapeutic centre of excellence, which is used by thousands of local people every year.
May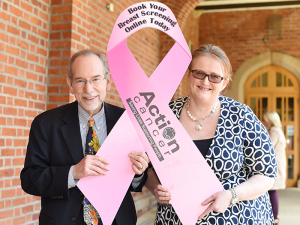 In May 2018 Action Cancer hosted an International Conference on Breast Imaging and Cancer Detection at Queen's University Belfast. This followed the introduction of Digital Breast Tomosynthesis (DBT), a technology that captures a 3D image of the breast. Moving from 2D to 3D technology enabled Action Cancer to detect more cancers and reduce the number of women being called for further investigation. We were the first organisation in either the public, private or charitable sector in Europe to use DBT for breast screening purposes.
Speaking at the event, Dr Mike Linver, who led the USA Government's task force on mammography in May 2018 said: "The introduction of DBT, characterizes Action Cancer's pioneering role in breast cancer detection. It is quite remarkable that a small charity in N. Ireland is making such an impact on the world stage."
September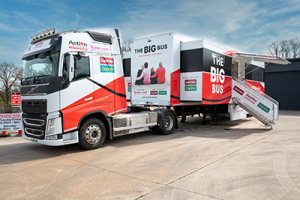 We introduced our new Big Bus – a bespoke, unique vehicle which brings our screening and health check services to the hearts of the communities throughout Northern Ireland, which we exist to serve.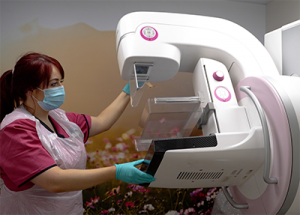 We provide breast screening to around 8,000 women every year in Action Cancer House and onboard the Big Bus. Supported by SuperValu and Centra, the Big Bus delivers early detection and health promotion services to 200 locations across NI every year.    
We offer support and therapeutic services to anyone affected by cancer; patients, carers and family members at a range of regional locations across NI. In addition to our early detection and support services, we also carry out health promotion activity with children, young people and adults in school, community and workplace settings, as well as offering over 2,500 health checks annually.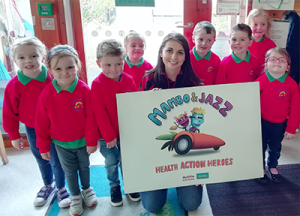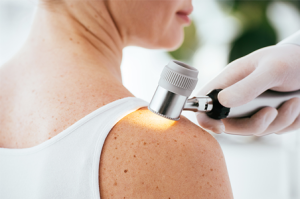 In 2023, our 50th year, we launched our Skin Cancer Detection Service which is now available at Action Cancer House in Belfast and regionally onboard our Big Bus by clinical nurse specialists. It is not a mole mapping service but is for people who have a concern about a changing mole/lesion. The aim of the service is to detect skin cancers at an early stage which will improve patient outcomes and cosmesis.
Today our mission is to save lives and support people affected by cancer in Northern Ireland. 
For more info call 028 9080 3344 or email [email protected]