Adopt an Action Cancer Piglet!

Adopt an Action Cancer Piglet!
Get in on the act and adopt an Action Cancer fundraising piglet!
This little piggy could go to market, or this little piggy could stay at home – alternatively this little piggy could find a space in your workplace, favourite take away, hairdresser, barbers, restaurant or newsagent – wherever you think your pig might thrive and get well fed. All you need to do is find a suitable home for your piglet and once it has a full belly – empty its contents, replace the pig and send the money to Action Cancer – Couldn't be easier!
The money raised by simply finding your pig a home may well save a life through earlier detection of cancer or go a long way in supporting a local family living with a cancer diagnosis.
People think volunteering will take up a lot of time – Wrong! There are so many other ways in which you can volunteer without dramatically having to alter your life including adopting one of our piglets!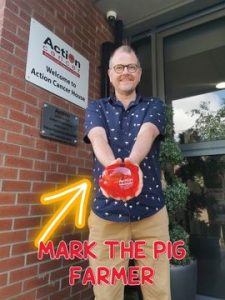 Adopting a pig is part of GET IN ON THE ACT, Action Cancer's new fundraising campaign, and appeals to new volunteers to come forward and fundraise within their own community ahead of the charity's 50th anniversary!
Start your volunteering journey with us and help Action Cancer to share its litter of piglets across Northern Ireland and raise much needed funds for our life saving services.
Register here to receive your Action Cancer Piglet or speak to farmer Mark on 07580 133752 or email [email protected].
Related Events