It is estimated that 70% of the adult population in Northern Ireland do not have a will. Why not start and make a will at one of our participating solicitors and help raise funds for Action Cancer.
Thinking of making a will?
The idea for Action Your Will is simple:
We ask participating solicitors to waive their fee to write a basic will or a pair of wills during a month of their choice.
In turn they will ask you to make a donation to Action Cancer in lieu of payment for this service.
The donation amount is entirely up to you however, we do suggest a donation of £120 as this is what it now costs Action Cancer to provide 3 complementary therapy sessions or 1 breast screening or skin cancer assessment for a local person in Northern Ireland.
The campaign provides an opportunity to prioritise will making, generate new clients and generate donations and potential legacies for Action Cancer.
– We will showcase your practice online through our social media platforms as well as in local press.
– Additional work outside a basic will or pair of wills, can be agreed by you and the client outside of the campaign.
– Involvement with this campaign has the potential to increase footfall of potential clients to your practice.
– Importantly it will raise vital funds and awareness of Action Cancer, a local Northern Ireland based charity.
Ann Kinder, Managing Partner of Donnelly & Kinder said, "The work of Action Cancer positively impacts the lives of thousands of people across Northern Ireland every year and we believe it is more important than ever to support our local charities. At Donnelly and Kinder Solicitors, we have over twenty years of will writing expertise which we are proud to offer, whilst also helping to support Northern Ireland's leading, local cancer charity. This year we will be waiving fees for will writing throughout the month of March, so if you want to write your will and help support Action Cancer, please get in touch."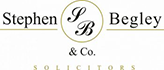 Stephen Begley & Co, Newry
Participating in April.
Contact 028 30267538
You can download the info or by completing the form below.
Register my organisation as an 'Action Your Will' Participating Solicitor:
Once registered, Action Cancer will be in touch with a pack of information for you.