Is your birthday or anniversary coming up? Why not make a difference and help save a life this year by asking your family & friends to donate to Action Cancer via Facebook or Instagram instead of buying you another gift you don't really need?

How to set up a Facebook fundraising page:
Click fundraisers in the left menu of your News Feed. You may need to click 'see more'
Click + Raise Money
Select Nonprofit or Charity
Select Action Cancer and fill in the fundraiser details: reason for fundraising/fundraising goal
Click 'create'

How to set up an Instagram page:
In Instagram, open the camera and take or upload a photo that best highlights your cause
Tap the sticker icon
Select the donation sticker from the tray
Search for and select Action Cancer
Customise your fundraiser using Stories creative tools
Post to your Stories
Wedding Favours with a difference…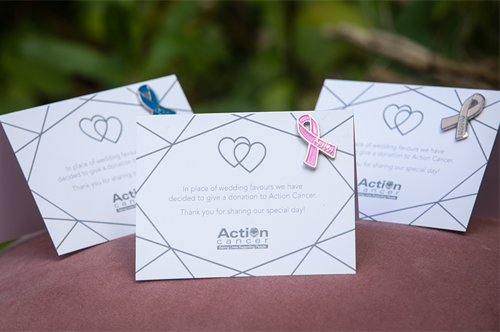 Choosing Action Cancer to be a part of your wedding adds a special personal touch and makes your day even more memorable. Favour cards have a simple message of thanks and include an Action Cancer pin badge. Pins are available in Ivory, Pink or Blue. Wedding favours can be personalised to remember a loved one, making your day extra special. A donation of £1.50 per wedding favour card and pin badge is advised.
Action Cancer also offers branded sweets as an extra treat for your little guests.
"We really wanted to choose Action Cancer because my nanny passed away at 49 from breast cancer and I wish that she could have had regular breast screenings as this would have saved her life! If our small donation helps at least one person then that's good enough for us." Catherine Kernoghan
Your generous donation will go towards our prevention, detection and support services for local people in Northern Ireland.
Contact Maria [email protected] for more information.
Order wedding favours online here
Please fill in this form and we will get back to you as soon as possible.