Having a clear out? Donate your preloved items!
Re-use, Recycle or Re-love?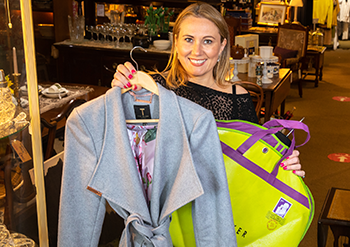 Our charity shops always require donations of good quality clean clothing, bags, shoes, bric-a-brac and more. Donate your preloved items and challenge your friends, family and colleagues to reduce, re-use and re-love. Take the Pre-loved Pledge and donate your unwanted clothing to Action Cancer, each large bin bag of clothing donated can be worth up to £40.
Every bag of donations that you give us helps towards our services, but if you Gift Aid your donation it can do so much more! For every bag donated that raises £40 with Gift Aid your donation can be worth £50 – an extra £10 at no extra cost to you but is invaluable to us and covers the cost of one of our counselling sessions.
Find out more about Gift Aid.
All we ask is when donating that your pre-loved items are in a clean, sellable condition and are in working order. If you are unsure or would like any more information on what you can donate please contact your local shop or call 028 9080 3344.
Reasons to have a clear out
From saving lives and supporting people, helping combat climate change and diverting from landfill, donating the items that you no longer need from your home has a big impact!
Here are just a few reasons to encourage you to become a donation champion:
Why have a clear out?
Value your things more: Keep what you love and donate your preloved. What you know longer want will be loved by someone else.
Less is more: Fewer things in your home/wardrobe, means less to maintain, clean, or organise – giving you space and peace of mind.
Clear out and do good: Giving away your preloved items can help us to raise funds into cancer prevention, detection and support services in Northern Ireland.
Combat climate change: Every year we divert tonnes of textiles and unwanted furniture items from landfill into our shops to be reused and given new homes. Second-hand doesn't mean second best.
Why Donate to us? 
1 in 2 people will be impacted by cancer in their lifetime
Every donation to our shops and every pound raised from your donation goes towards our cancer prevention, detection and support services.
All money raised by Action Cancer stays in Northern Ireland to support local people.
Each year divert approx. 600 tonnes of clothing, accessories and textiles from going to landfill in. Donations like yours help us to reduce the environmental impact of waste.
If we can't sell your donations in our shops, we do our best to re-use or recycle them through our recycling partners.