Here in NI, it feels like it's such a rare occasion for us to get 'good weather', so when we do get to see the sunshine, either at home in NI or when we travel, there is no doubt getting out into the sunshine always feels great.
But the sun doesn't just provide us with sunshine.  It sends Ultraviolet radiation rays (UV) in that sunshine.  This UV is important for us because it's used to help our body produce vitamin D. We need vitamin D to help the body absorb calcium and phosphate from our diet. These minerals are important for healthy bones, teeth and muscles. A lack of vitamin D, known as vitamin D deficiency, can cause bones to become soft and weak, which can lead to bone deformities.  It's our main source, but not only source, of vitamin D.  For more info about vitamin D and sunshine, click here.
We may only think of the sun as the main source of UV exposure, but sunbeds/UV lamps are another source.   
While some UV exposure is good for us, too much UV can cause skin damage and increase your risk of skin cancer. 
Skin cancer is the most common cancer in NI, with over 8000 cases every year.  It's also one of the most preventable cancers. To reduce your risk of developing skin cancer, it's important to limit the amount of UV exposure you get in order to protect your skin from sunburn and damage.  There are a number of ways you can do this: 
Generally the paler your skin the more likely you are to get sunburnt and the higher the risk of skin cancer.  That's not to say if you have naturally dark skin you won't get skin cancer your just at less likely. Remember you should never let your skin burn in the sun regardless of skin type.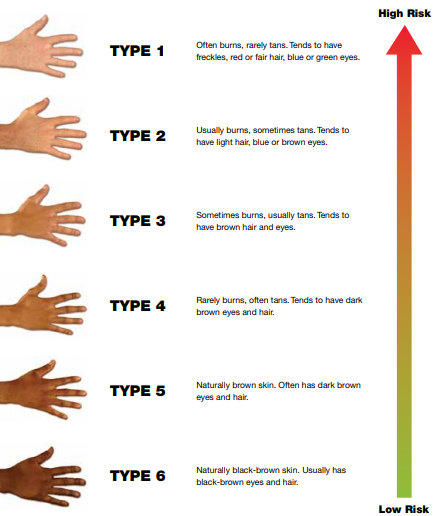 Self-check your skin once a month and be aware of signs and symptoms of skin cancer.  
**Remember there is no healthy way to get a tan. **
Action Cancers' Safe Sun campaign is proudly supported by Gordons Chemists.